21. November 2018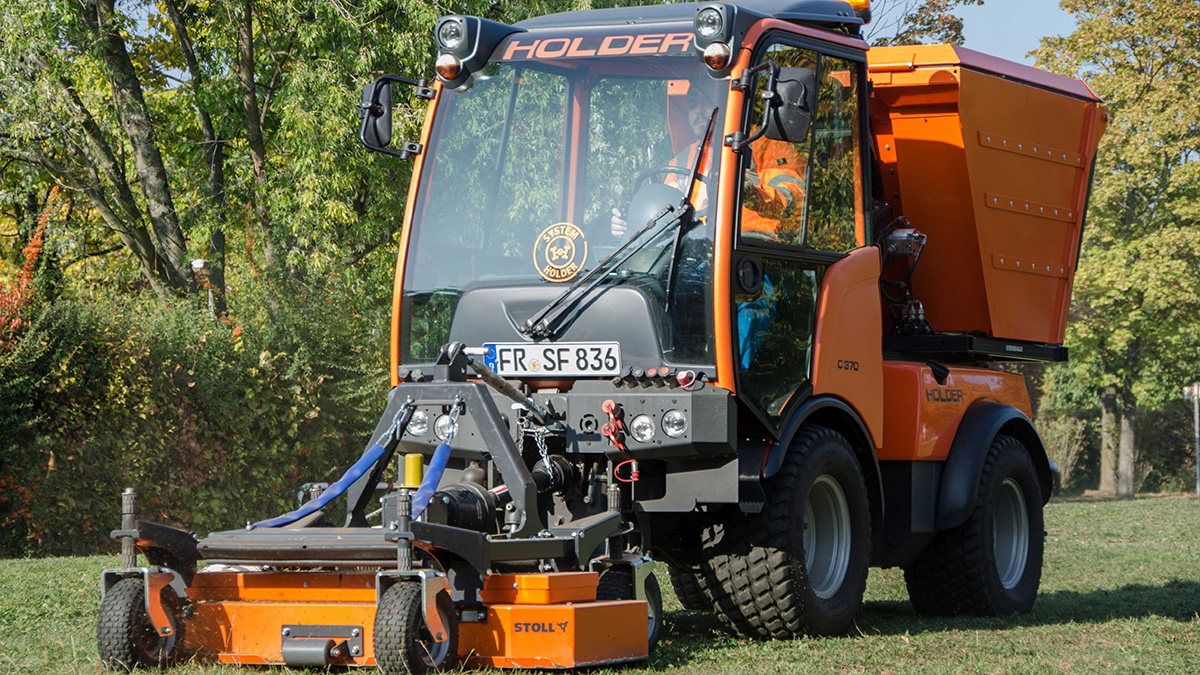 Reliability and flexibility are a must, time is a precious resource: The private service provider FeSo from Freiburg relies on the versatile implement carriers from Holder for sweeping paths and squares at schools and playschools, as well as for garden maintenance on behalf of the community. Not only because the robust multifunctional vehicles are convincing. Also because with the long-term Holder authorised dealer Reiko a competent and trusting partner is available locally to provide assistance and advice.
The Holder C 250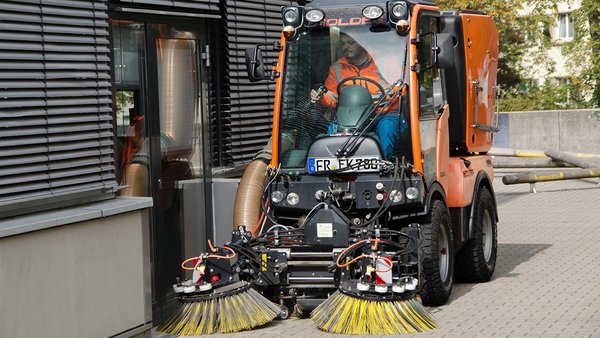 In the late afternoon the last students leave the grounds of the Droste Hülshof Gymnasium (secondary school) in the Herdern district of Freiburg. At the entrance Branko Sestak is already at the starting position with his Holder C 250 and flashing warning light. The FeSo employee will control the sweeper with the greatest of ease following an invisible schedule covering a wide area of paths and squares. The Holder C 250 is equipped with the Easy Clean sweeper-suction combination from Kugelmann: A front attachment with two rotating, horizontal and vertical brushes, including suction unit and a piggyback collecting tank.
Branko Sestak manoeuvres the Holder C 250 exactly along walls and fences. He reaches almost every corner and goes around benches, bins and table tennis tables with confidence. He controls both the driving and programme functions of the machine via convenient 1-hand operation. Leaves, pebbles, shreds of paper, leftover food, as well as woodchips from the play area, are guided via the suction tube at the side into the up to 1,200 litre collecting tank depending on the version.
To Branko Sestak, it is an even greater incentive to reach every nook and cranny. "The more I manage with the Holder, the less work I have to do afterwards by hand", says Branko Sestak with a wink. The articulated steering typical of Holder, the narrow turning radii, as well as the left and right deep-drawn windscreen, support him in his mission. After a few rounds back and forth the school grounds look immaculate. The schedule is tight, Branko Sestak must move on to a playschool roughly five kilometres away. With 50 HP under the bonnet and at a maximum speed of 40 km/h, like all Holder multifunctional vehicles the C 250 reaches every job site quickly and conveniently. If the container is full the Holder does not have to drive to a dump: The containers can be raised 1.5 metres and emptied onto a truck or trailer bed.
"The more I manage with the Holder, the less work I have to do afterwards by hand"

Branko Sestak
In the cleaning industry external factors largely set the pace: Open spaces in school yards or playschools can only be cleaned when they are not in use or there is low traffic. Sports fields and green areas must be mowed depending on the growth rate or on request, not to mention the winter maintenance. "Flexibility, intelligent logistics and efficiency are key. The margins are tight, we have to be able to fully rely on the equipment. With each breakdown or malfunction we are throwing money away", says Edis Ferhati, Managing Director of FeSo. With seven employees the service company specialises in road and path cleaning, lawn maintenance, winter maintenance and janitorial services. The city of Freiburg is one of the big contracting authorities. Open spaces of 57 properties spread out all over the city must be swept on average once or twice a week.
Just over a year ago FeSo was awarded another contract: Sports grounds and municipal green and lawn areas must be mowed up to 17 times during the vegetation period – with a total area volume of approx. 1.1. million square metres! By then Edis Ferhati had gained more than five years of good experience with the Holder and the Easy Clean. "The Holder C 250 offers the flexibility, robustness and reliability that I need in this business", says Edis Ferhati. Should he buy a new, high-performance mower for the new job? Thanks to the standard interfaces of all Holder vehicles, it is possible to change from the Easy Clean to a mower system in around 20 minutes without the use of tools.
The Holder C 370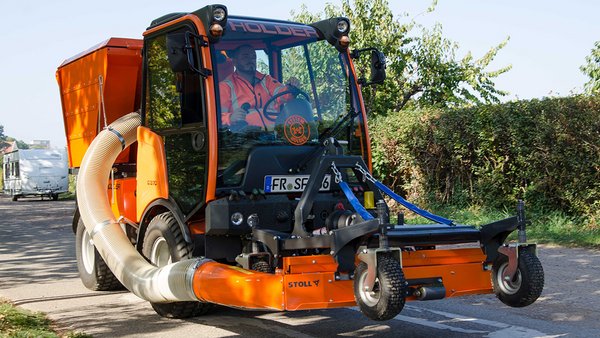 After all considerations and feasibility studies, the procurement of a new Holder C 370 ultimately comes down to Reiko and Siggi Saladin: As shareholders of the Freiburg-based Reiko Reinigungs- und Kommunalmaschinen GmbH, Saladin sells and distributes machines and vehicles for building and external cleaning and property maintenance, as well as for winter maintenance. The scope of services includes a comprehensive advisory service and an extensive range of services with a qualified workshop. Reiko has been a Holder distribution partner since 1998. Siggi Saladin not only knows Holder quite well, but is also very familiar with the municipal cleaning and service industry. "At the output volume shown and in view of the flexibility required, I would have had no qualms in recommending a second Holder a year ago. Otherwise, we would have changed attachments probably every second day", says Siggi Saladin.
Edis Ferhati followed the recommendation: "I have a very trustful and personal partnership with Reiko and Mr. Saladin. I know that I receive competent support in every situation and rapid assistance or a comparable replacement vehicle in an emergency", highlights Edis Ferhati. In essence the Holder C 370 corresponds to the C 250, but at 70 HP has a more powerful engine and has a two-man cab instead of a one-man cab. Now in use over a year, Edis Ferhati no longer wants to do without the new vehicle: "With the Holder C 370 and the attached 4-way sickle mower I can process various lawn areas – from sports grounds to hilly parks through to small, tiny lawns along roads and squares", says Edis Ferhati with some pride. The Holder C 370 is equipped with a mower from Stoll and an extraction unit from GMR. Two of several manufacturers of attachments, who are listed as premium partners at Holder. Four equal-sized wheels ensure perfect traction, even on steep slopes. The directional stability of the front and rear wheels helps protect vulnerable lawn areas and the wheels do not even tear up the topsoil on wet ground. Its extreme manoeuvrability, very narrow turning radii and the unrestricted view of the surrounding area keep manoeuvring efforts to a minimum.
"Features such as manoeuvrability, robustness, permanent all-wheel drive and good all-round visibility really pay off in winter maintenance. Those who have previously done this job on draughty quad bikes appreciate the benefits of a vehicle with a heated cab"

Edis Ferhati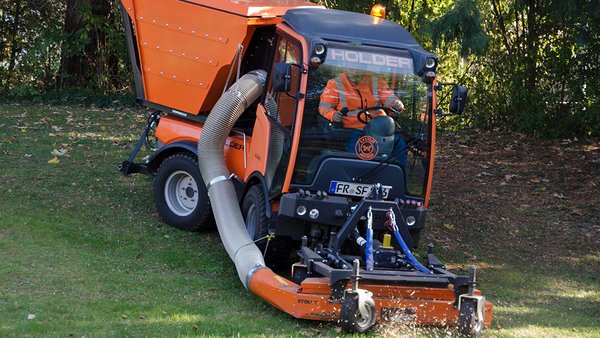 For good reason FeSo decided on a two-man cab with comfortable driver and passenger seats: "We are often called out in pairs and with a trailer: While one person mows the areas, the second person can work on the impassable areas with an on-board hand mower. This way we save time and protect resources", explain Edis Ferhati. What a blessing the air-conditioned cab was last summer, he adds almost casually.
From mid-October Edis Ferhati prepares the winter maintenance: The Holder C 250 will also be used as a sweeper in the cold season. With the Holder C 370 the sickle mower of a front sweeping brush makes way for the snow removal, a container for grit replaces the green waste container. Whether it is snowing or freezing, roads and areas must be cleared and gritted as quickly as possible according to a defined schedule. "Features such as manoeuvrability, robustness, permanent all-wheel drive and good all-round visibility really pay off in winter maintenance. Those who have previously done this job on draughty quad bikes appreciate the benefits of a vehicle with a heated cab", says Edis Ferhati. If a vehicle breaks down during the time-critical winter maintenance, Reiko provides a replacement vehicle within a very short time. "To avoid letting it come to this point, we check the vehicles regularly and give them a thorough inspection specially before the winter maintenance", highlights Siggi Saladin.
Nothing but a Holder!
Edis Ferhati is already thinking one season ahead: It is possible that in spring 2019 more lawn areas will be added to our workload; it is conceivable that FeSo will expand its range of services with pruning and hedge trimming, particularly along narrow footpaths and cycle routes. A new attachment - or a third Holder? Edis Ferhati looks inquiringly at Siggi Saladin. "We'll see, we will also find an appropriate solution here", replies Siggi Saladin and smiles. If a new vehicle is a must, then Edis Ferhati is quite confident: Nothing but a Holder!