25. August 2015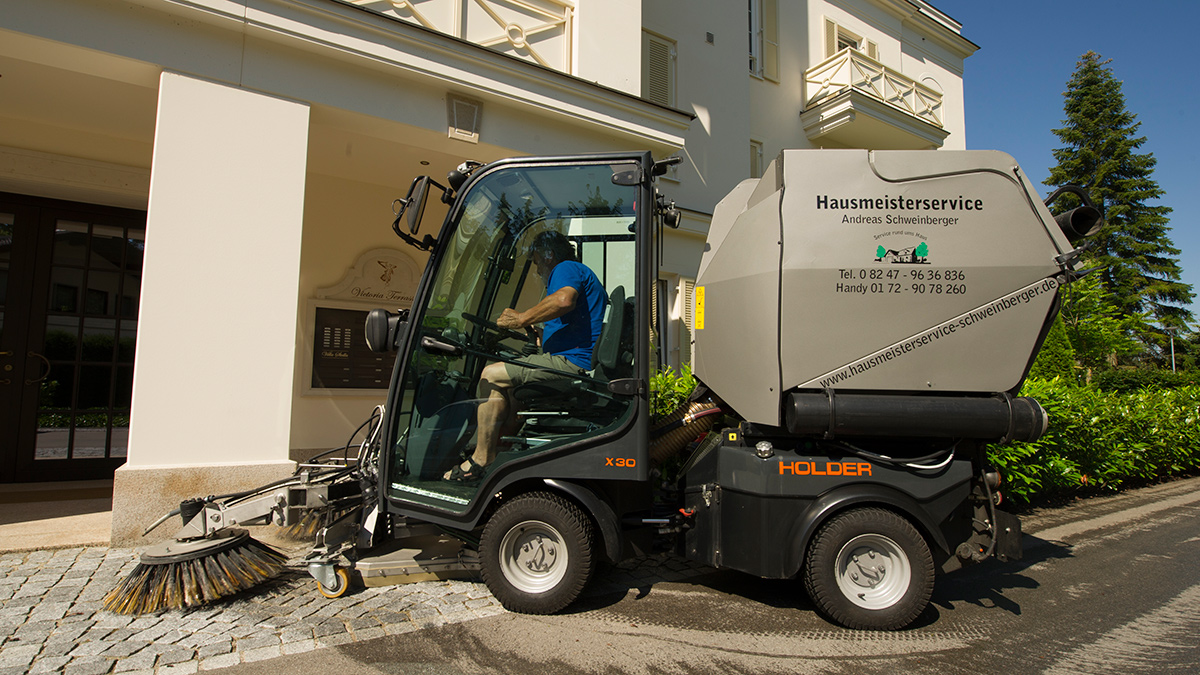 Bad Wörishofen, July 2015 – 19 years ago, Andreas Schweinberger started a facilities management company in the spa town of Bad Wörishofen in Unterallgäu. Since then, his regional caretaking service Schweinberger has continually grown and now has 17 employees. The main tasks include sweeping and cleaning (e.g. wet cleaning of underground car parks), winter and grounds maintenance. Many customers are increasingly looking for complete contracts which also include stairwell cleaning. In addition to the areas of new customer acquisition and finance, managing director Andreas Schweinberger is also in charge of technical questions, especially regarding the equipment of the machine park. However, if a customer's lift is stuck or a garage gate is catching, the owner also often takes care of matters himself – always in close coordination with his foreman Tobias Reindl, his "right hand man".
"I rely on good machines. When we make a profit, we invest in new machines at once."

Andreas Schweinberger
All-round service for housing management companies
Housing management companies in particular make use of the all-round service of Hausmeisterservice Schweinberger. "It has become clear over the last few years that there are many housing management companies in our area. To prevail on the market, service and quality are absolutely decisive," says Andreas Schweinberger. Smaller companies kept prices low, but his customers were willing to "pay a Euro or two extra for good performance so that they do not have to deal with all kinds of miscellaneous things." The better a facility management company did its work, the less work would be left to the caretaker. "Therefore, it is fundamental that we perform our tasks well and relatively quick," Schweinberger emphasizes.
The demand for facilities management services as a whole has increased. "Quality and flexibility have changed in any case," says Schweinberger. To always meet these customer demands, the managing director relies mostly on two things in his growing company: "Good employees and good technology are vital." This means a high-quality and high-performance machine park. Hausmeisterservice Schweinberger has three ride-on mowers, various vehicles, trailers and smaller hand-held machines, as well as four state-of-the-art multifunction vehicles that are used all year round for sweeping, blowing and leaf suction as well as for winter maintenance. "There are other large facilities management services that handle their organization differently here as well. They have many employees but a smaller machine park. They use older or used machines," Andreas Schweinberger says. "I rely on good machines. When we make a profit, we invest in new machines at once."
His employees also have a lot more fun at work this way. They were much more motivated by being able to use high-quality machines for working instead of always thinking: "Oh not that old thing again". "I believe that this is very closely connected," says the 40-year-old entrepreneur. "You not only have to look at the return, but also keep your workers happy. It's very hard to get good people. If you have the benefit of offering work with good, newer machines, it's a bit easier."
The Holder X 30 & C 250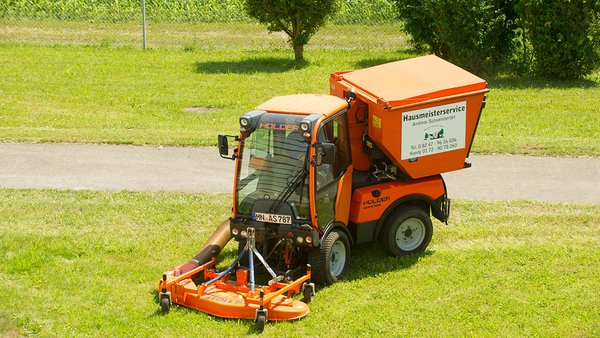 Modern multifunctional vehicles allow for more effective and faster work
The company uses its three new Holder vehicles often and for a variety of purposes: a smaller Holder X 30 and two Holder C 250s. "It's insane – in winter maintenance, they manage almost twice that which a regular tractor does," foreman Tobias Reindl says of the deployment of the C 250s. The flexible narrow-track vehicle is particularly agile, especially with its articulated steering. Although "driving an articulated-steering vehicle is a skill you have to learn," Andreas Schweinberger adds. It takes some experience. The largest time savings resulted in continuous forward movement. The C 250 reaches 40 km/h, "quite a unique speed in this field." Conventional tractors only reach 20–25 km/h.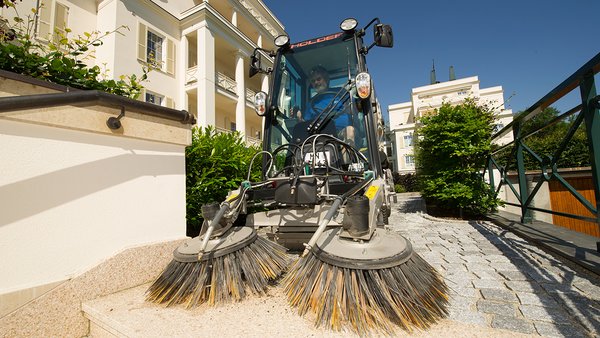 In the warmer months, the two C 250 vehicles are mostly used for mowing lawns and at the same time sucking up the grass. A Stoll suction device ensures efficient work whilst protecting the lawn. When sweeping, cleaning and sucking up leaves, in contrast, the smaller X 30 machine is used more frequently. "It is a great machine especially for our residential facilities," says Schweinberger. The machine sweeps and sucks very cleanly according to him. It is even able to apply water to keep the dust development low. "It is a small success to sweep and clean with machines.
We used to do this manually or with a suction device or brush. We also take care of savings building societies and any number of businesses, and it does make a very good impression there if you arrive with one of those machines." In addition to a good external impression, Schweinberger says that the "inner values" are just right as well. The performance capacity and the comfortable cabs made work easier for his employees. The different attachments are perfectly aligned with the carrier vehicle and can be replaced quite simply. No "multifunction failures" threaten. Some multifunction vehicles had "a lot of technology and operation got so complex" that many operators were unable to handle them.
Schweinberger and his foreman Reindl call themselves "Holder fans". They say that Holders do better than other vehicles in many details. The trade service and repair service have convinced them as well. "They know what you need when you call." And they come at once when you need them. That is not a foregone conclusion, as they "unfortunately had to learn previously", says Schweinberger.
New growth fields
Andreas Schweinberger wants to continue to expand his company. The Holder C 250 can be used to process larger areas and thus they can accept bigger contracts. The purchase of another implement carrier is already planned. He considers weed control without the use of herbicides another growth prospect for the caretaker service. This way, he wants to acquire new customers who place value on ecological and sustainable methods, and avoid endangering his own employees, children and pets playing in the gardens. The company already has an attachment from WAVE Europe in its range that removes weeds – initially mostly in residential facilities – using only pure hot water.
Schweinberger is also planning further development in the trend towards privatization of municipal services. An as an additional business field, acquiring sweeping and cleaning contracts from local authorities is planned – but again, use of the latest implement technology is expected. "I see a medium-term opportunity in this area to expand with a second pillar," says the managing director.
Word of mouth is the best advertisement
Hausmeisterservice Schweinberger barely advertises its services. "We have advertisements on the vehicles and trailers, and that's mostly it," the boss says. There has been strong expansion nevertheless. "A), because we have been in the market for a long time, and B), because we work on site and are reliable. The better we work out there, the less work will be left for the caretakers. Then the interaction works well. That is very important." Word of mouth was the best advertisement, he says. "It all goes by recommendation or via good service," Andreas Schweinberger emphasizes. If the depot managers are happy with his work, and that includes high-quality high-performance machines, they will recommend him to others – and his orders will increase.