04. July 2018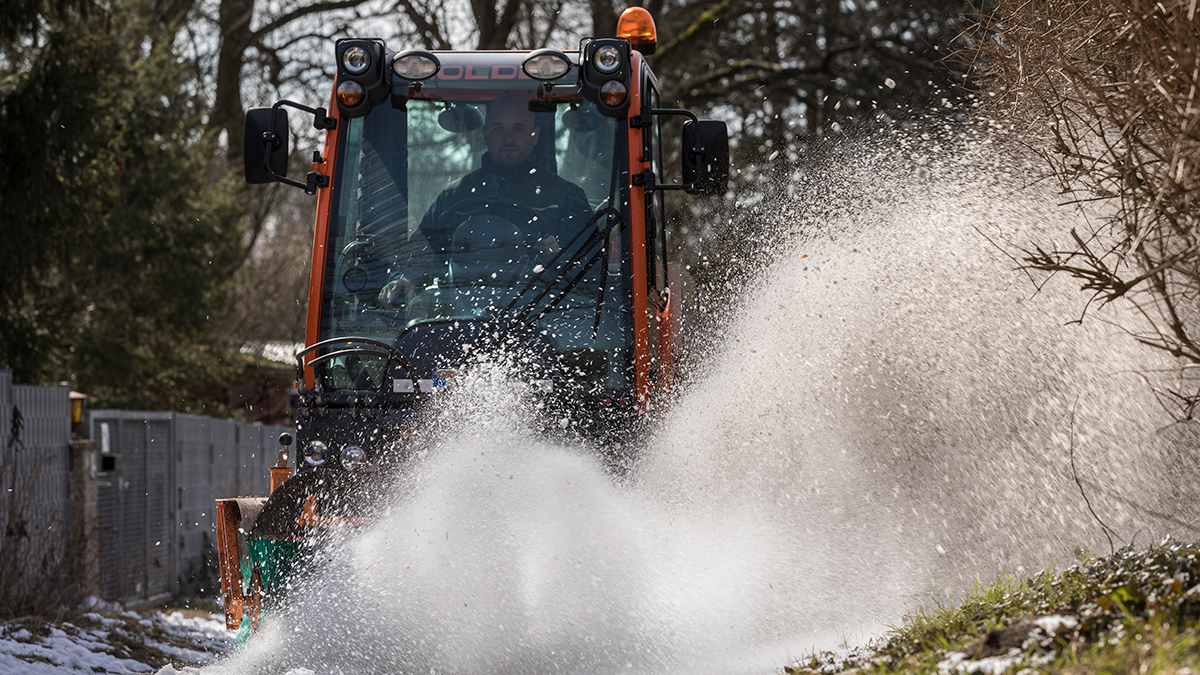 Berlin, April 2018 – The gardening and landscaping company Brundke & Thürmann was founded by Clemens Brundke and Roger Thürmann in 1999 in Berlin-Kladow. This district of Berlin is located in southern Spandau and borders the state of Brandenburg. Unlike most other districts in Berlin, Kladow has a small population; its appearance is shaped by lots of detached houses with gardens. In the early days, these two gardeners-cum-landscape designers – who had known each other since they were children – therefore concentrated on tree-felling, gardening and landscaping. From starting off with just the two of them, the company grew to five permanent employees. Winter maintenance was only added in the last ten years – and with it came five additional seasonal workers. Since demand was and still is high in Kladow and the neighbouring district of Gatow, winter maintenance has since become the most important field of work for Brundke & Thürmann. The growth of this small Berlin-based company is mainly down to this type of work, which it is set to expand further.
Continuous growth thanks to satisfied customers
Brundke & Thürmann GbR initially offered winter maintenance for around two years as a subcontractor. Given the high volume of orders they received, the pair decided to take matters into their own hands. "There was demand here in Kladow and this demand has continued to rise," explains Roger Thürmann. The company now has over 550 customers during winter, and this is a growing trend. "Punctuality and reliability are crucial in winter maintenance, and we have an excellent reputation when it comes to both of these points." The main task is to clear the snow promptly and to prevent the risk of slipping. It is usually the customer's responsibility to remove the grit. Removing grit is only included in the overall package for car parks in larger shopping centres and for a few private customers.
The company only advertises in one local newspaper. Most of their customers have come to them through word of mouth and/or recommendations in the neighbourhood. "You can now find us on almost every street in Kladow. If more customers were to come on board with properties located between the areas in which we're already established, that would be great..." says Thürmann. "Then we could further expand the winter maintenance service and even add another vehicle."
Solid technology as a key enabler: The Holder X 30 & B 250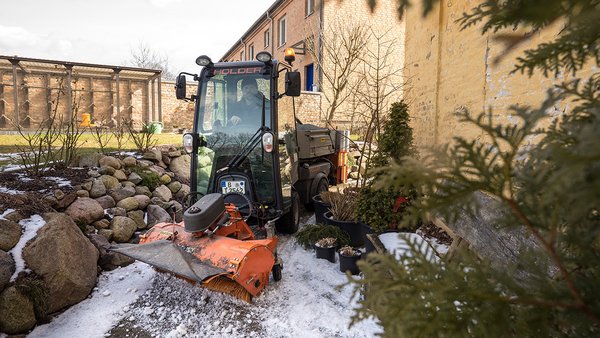 For the gardening side of things, Brundke & Thürmann GbR can call upon a small fleet of various vehicles and manual tools; however, in winter in particular, two implement carriers from Holder are used: The X 30 and the slightly larger B 250. These are actually multifunctional devices that can be used throughout the year, but their technical equipment has become particularly valuable in Kladow when it comes to the challenging task of winter maintenance. "The technology is an important success factor," explains Roger Thürmann. "It has to be sound and reliable. This is why we chose Holder vehicles." Professional work that is comfortable for employees, even when used continuously, as well as a long service life, must all be guaranteed by these machines.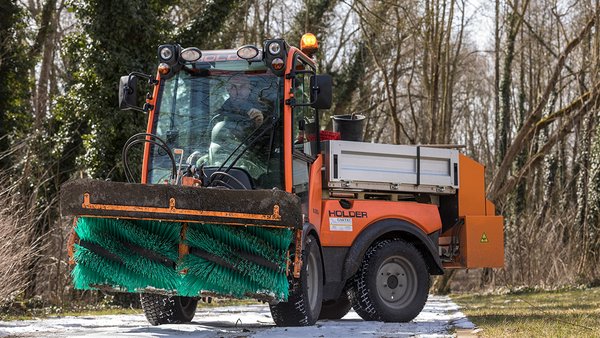 The current attachments, such as a solid front brush specially designed for winter maintenance and a combination roller spreader, were made by KIF – when combined with the Holder implement carriers, the residents of Berlin therefore feel well-prepared for the cold season. Especially if they can also protect themselves from freezing in the closed cabs with heating. Various other machines were used for work at Brundke & Thürmann in previous years, but these did not always deliver what they promised when purchased. "There are some brands that we no longer use here," says the company's founder. "To have modern technology, which is getting better and more sophisticated all the time, simply work at the touch of a button is truly a relief. It's wonderful." This technology includes convenient joystick control, directionally stable driving and the hydrostatic drive that enables speeds of up to 40 km/h without having to change gears.
The floating position of the Holder vehicles, which allows for even clearance to the ground, thereby protecting the attachments and guaranteeing a longer service life, and the emergency stop button are also important features that Brundke & Thürmann now find indispensable. The same is true of the ease of access for servicing: "That's easily solved by using side flaps that can be opened," states Clemens Brundke. "Everything is easy to access, such as the fuses and the battery. This makes servicing easier."
Agile and efficient to use thanks to articulated steering
In Kladow, the main advantage for winter maintenance has also proven to be the articulated steering on the Holder vehicles. Implement carriers from many other manufacturers are equipped with "crab steering", which is a form of all-wheel steering. "Above all, articulated steering offers the advantage that the attachment can be better aligned using the steering," explains Clemens Brundke. "Crab steering may have a very small turning circle, but the working method is fairly rigid overall. You have to drive up precisely and then you can't correct yourself."
Since Brundke & Thürmann GbR mainly looks after pavements and access roads to private properties, and occasionally shopping centres and car parks as part of the winter maintenance, agility and flexibility are of the utmost importance when driving in a small space. When working in a shopping centre car park, for example, you have to be able drive around food stalls, disabled parking spaces or trolley stations. The vehicles must be narrow overall in order to drive through small alleys and over pavements, and to be able to avoid obstacles. "If I come across an obstacle, I can use the articulated steering to easily get off the pavement," explains Roger Thürmann. "I need just two metres of space to do that."
"If I come across an obstacle, I can use the articulated steering to easily get off the pavement. I need just two metres of space to do that."

Roger Thürmann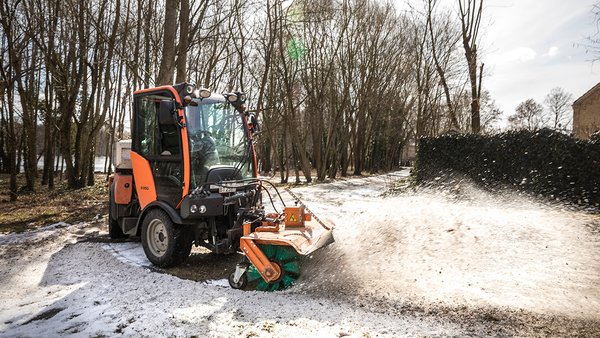 Efficiently sized – in addition to high manoeuvrability, this also means the best-possible compatible compact attachment, which can be used to load large amounts of grit, for example. For spreading, Brundke & Thürmann use a combination roller spreader that combines the advantages of a disc spreader with the advantages of a roller spreader. The roller spreader drops the grit over a precise width (making it ideal for pavements, for example), while the disc spreader can distribute the grit flexibly over different widths.
Being able to work quickly on-site and drive quickly to the next job site are also important. The transport speeds of 40 km/h are completely sufficient for this in Kladow and Gatow. "It's slippery, it's dark, people are walking wherever they want and I don't want to damage any cars or fences – so I don't need to be travelling at 100 km/h," says Clemens Brundke. "With more grit at the rear, this increases the total weight, meaning that, at some point, I'm no longer going to be able to drive over pavements. A higher speed would only be of interest if I were here and needed to travel to other districts for spreading."
The grit is also crucial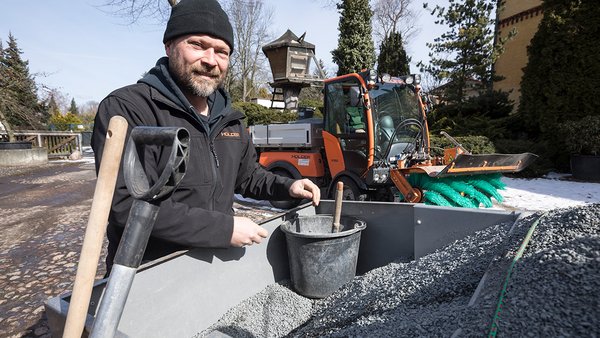 Spreading salt is prohibited in Berlin, meaning that you can only use sand and grit. Brundke & Thürmann only use grit. The most important thing in winter maintenance is having access to dry grit at all times. "We have a covered container. Otherwise, frost and moisture would create large clumps in the container," explains Roger Thürmann. "Our vehicles are stored inside a heated building, so they're always ready to go."
Warranty for good Service
Because top service always demands top technology, even smaller companies can rely on a reliable regional specialist trade. Professional advice for new acquisitions, servicing of machines, quick repairs or a guaranteed spare parts supply – all of these are necessary to guarantee that the machines are operational at all times. Brundke & Thürmann select their technology in accordance with the order situation; the price and function must work with this. The Gartec garden technology centre has proven itself to be a reliable partner in the region in this regard. The two managing directors also purchased their two latest Holder vehicles here after receiving advice and a demonstration.
Their relationship with the manufacturer of the implement carriers is long-standing. "I still have a 1958 Holder model in my cellar," explains Clemens Brundke. "My father used it to start working on the field after the war ended. They have always been robust, reliable machines. The '58 Holder even had articulated steering back then." He adds that the new vehicles now also come with lots of cladding and the doors are now made of glass, as is the case with the others. "Of course, there's a chance that they can shatter. But on the plus side, the panoramic view means you have a safe and comfortable workspace," says Brundke. Reliable and proven technology therefore guarantees the perfect winter maintenance service.
"I still have a 1958 Holder model in my cellar. My father used it to start working on the field after the war ended. They have always been robust, reliable machines. The '58 Holder even had articulated steering back then."

Clemens Brundke