Multi-functionality beyond the standard: Holder presents itself as a complete solution provider at demopark
29. March 2017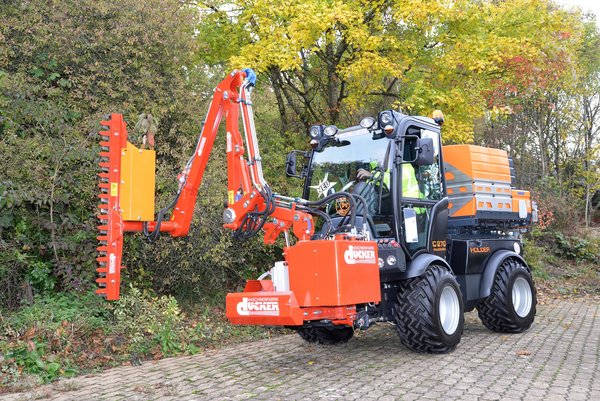 With its full line of vehicles from 27 to 110 HP and one of the largest ranges of attachments on the market, Holder is sending out a strong message at the demopark trade fair from 11th - 13th June 2017. The long-established company, based in Metzingen, Germany, offers its customers an all-round comprehensive service for all applications and areas of use, whereby the company sets the usual strict standards: For Holder, true multi-functionality means the requirement that the relevant application is to be performed so that the working results are equivalent to those of a single-purpose vehicle. And this is an area in which Holder has no rival.
With the "mandatory product range", the standard applications for winter maintenance and lawn care, the municipal machines manufactured in Metzingen prove to be true professionals. Particularly at a time when the demands on man and machine are increasing, the partnerships with premium partners introduced in 2016, and which have grown and continued to be extremely successful in the meantime, are paying off. The close collaboration with selected attachment manufacturers is enabling Holder to adapt attachments optimally to its own vehicle models and means that it can offer complete systems which are technically sound and which will work for a long time. The third standard application – sweeping – is undergoing major expansion at Holder: With two new sweepers, they are celebrating their début at this year's demopark, Holder is extending the already extensive range of attachments of the C series with the latest application technology.
"Nice to have" features – or special applications – are becoming increasingly important for customers. Whether we are dealing with removing and cleaning road markings, verge mowing or weed control using hot water, Holder has a solution ready for practically any requirement – and in the exceptional case that it does not, experienced Holder engineers will develop a customised solution.
Visit Holder at trade fair stand B-263.