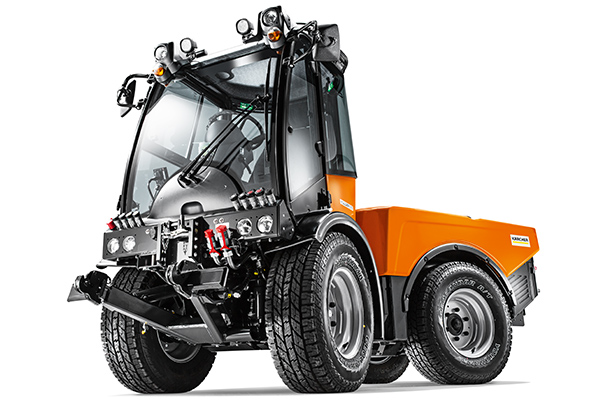 The Holder S 75 combines superior performance with compactness suitable for city centers
The new Holder S 75 is the ideal partner for demanding year-round use on sidewalks and public areas.
Its articulated steering provides the agility, precision and tracking required for perfect results. The permanent all-wheel drive optimally distributes the power of the 75 hp engine to all four wheels. The compact width of minimum 1.31 m (depending on tyres) enables you to reach every nook and cranny in town. And, best of all, from the comfort of your cab, you can steer through even the toughest jobs with ease.
Find out now where you can use the new Holder S 75.
The benefits of the Holder S 75 at a glance:
Comfortable cab
Ergonomic operating console
Programmable joystick
Powerful traction drive
Mechanical front PTO shaft
LED lighting
Easy service access
Three independent hydraulic device drives
100% mechanical differential lock on both axles
Impressive manoeuvrability
Mechanical wheel load balancing
Three attachment spaces
Superior performance in all-season use
Cleared paths, ice-free pedestrian zones and well-maintained green spaces: thanks to unique design and technical solutions, the new Holder S 75 can be used multifunctionally and performs a wide range of tasks in top quality. Thanks to the well-thought-out design with standardized interfaces that enable a quick change of equipment, the changeover to winter maintenance, green maintenance or irrigation can be carried out in just a few steps. At the same time, three attachment compartments allow a wide range of equipment combinations and guarantee more flexible work applications, higher productivity and more impact. Thanks to two standardized attachment compartments (front and rear lift) and a third attachment compartment for semitrailers, the Holder S 75 offers a wide range of options.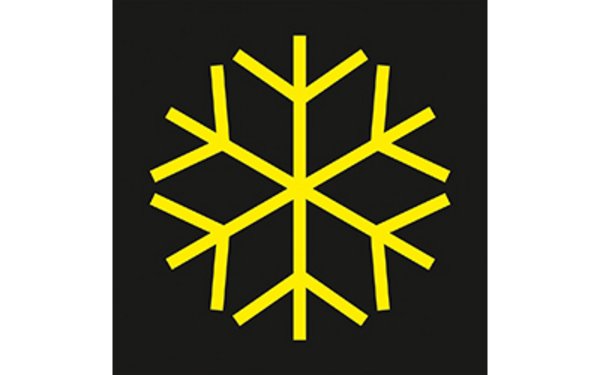 In winter
Frost and ice are an inevitability. Thanks to the permanent all-wheel drive and four equal-sized wheels, the Holder S 75 provides outstanding traction even in wintry conditions. The smart load limit control is particularly effective when snow throwing.
The position of the engine between the portal axles also makes the rear implement space extremely low for this class. This means that even with a spreader attached during winter service, you still have a clear view out the back.
In summer
In summer, the Holder S 75 is an excellent choice for maintaining green belts. Flexible connection and mounting options, its climbing ability and maneuverability as well as the high area performance open up practically unlimited application possibilities. Green areas of all kinds can be mowed, mulched or irrigated quickly, effectively and to the highest quality, even in areas that are difficult to access.
The electronic load limit control automatically adapts the driving speed in response to the decrease in performance on the front implement. The advantage: You can fully focus on the job in hand and keep moving at maxi
mum working speed.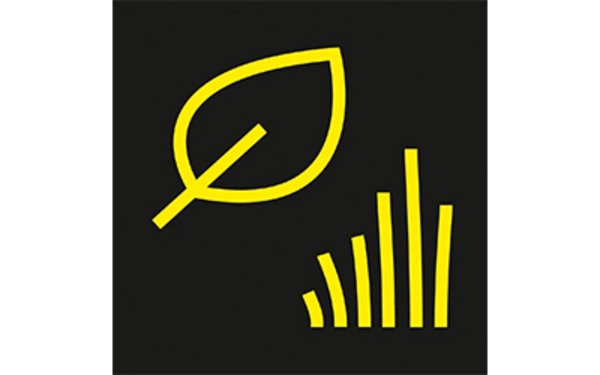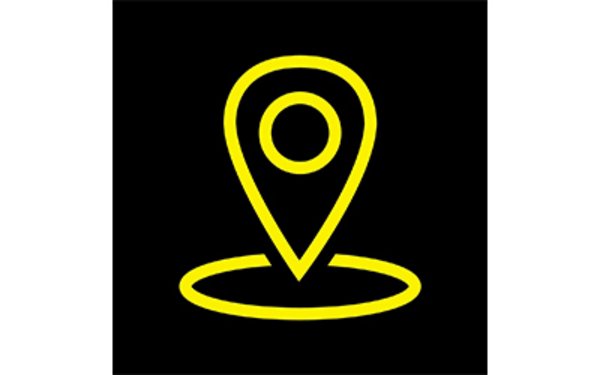 Multiple benefits of the Holder S 75
Quick implement changing: Compatible with existing implements
Perfectly adapts to the ground conditions: Weight compensation for ground protection and higher traction
Manoeuvrability using implements and side shift for more range
Extreme climbing ability and extremely slow speeds possible
Futureproof with latest emissions standard, no AdBlue needed, low consumption
100% drive power at all times: Powerful yet quiet low-maintenance drive train
Powerful front linkage
The powerful front linkage (CAT II) with a lifting force of 2.700 kg can handle even large, heavy implements. One person can single-handedly and effortlessly attach or remove implements using the separate external control. A unique feature is the three-dimensional movement of the front linkage over the central hinge. You can use the joystick not only for raising and lowering, but also to adjust the tilt and move the implement sideways.
Benefits to you:
Suitable for heavy implements
Compatible with existing implements
Perfectly adapts to the ground conditions
Weight compensation for ground protection and higher traction
No pendular compensation needed on the implement
Side shift for more range
Optimum results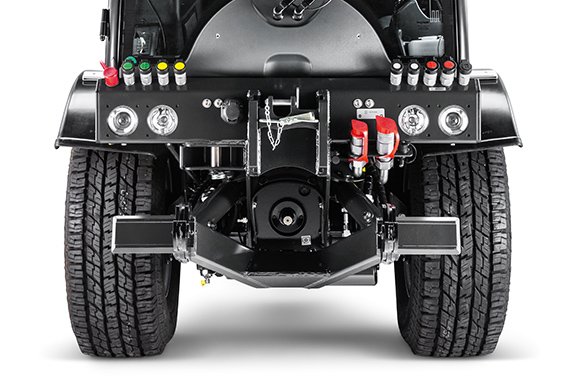 Mechanical PTO shaft
Thanks to the direct, low-loss mechanical drive shaft of the mechanical PTO shaft, implements with high power consumption can be operated efficiently.
Benefits to you:
Lower fuel consumption
No heating or mixing of the hydraulic oil
Increased continuous power
Larger implement dimensions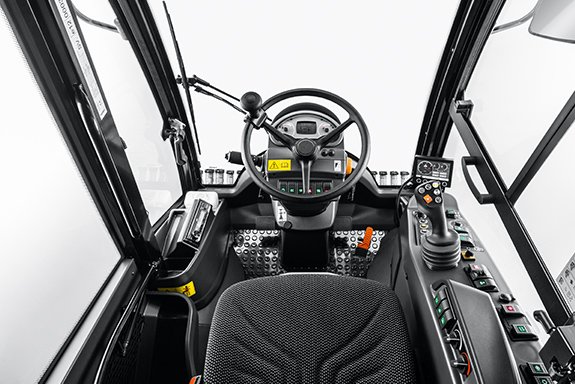 Comfortable cabin
Climb in, get comfy, and off you go – in the ROPS comfort cab, you can enjoy perfect visibility and maximum comfort. Even taller or heavier drivers will find the glazed cab of the Holder S 75 spacious and comfortable. The perfect conditions for long working days.
Benefits to you:
360° all-round visibility
Air conditioning
Air-sprung, heated comfort seat with optional 3-point seatbelt
One-handed operation
Most important functions on joystick, including forwards/reverse and control valve operation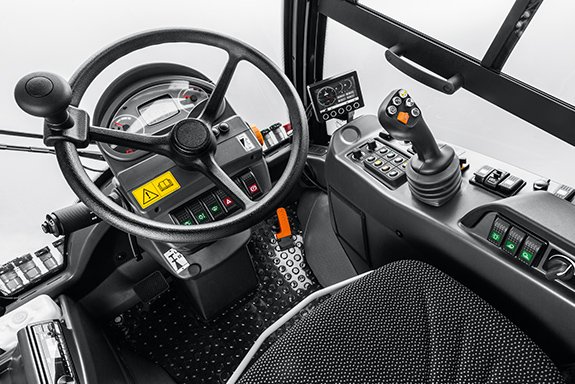 Ergonomic operating console
You can use the joystick not only for raising and lowering, but also to adjust the tilt and move the implement sideways. All controls are within easy reach of the driver and are intuitive to operate. So working is straightforward and safe, and you avoid fatigue.
Benefits to you:
Intuitive operation
Low fatigue work
Perfect control of vehicle and implement
All relevant vehicle information at a glance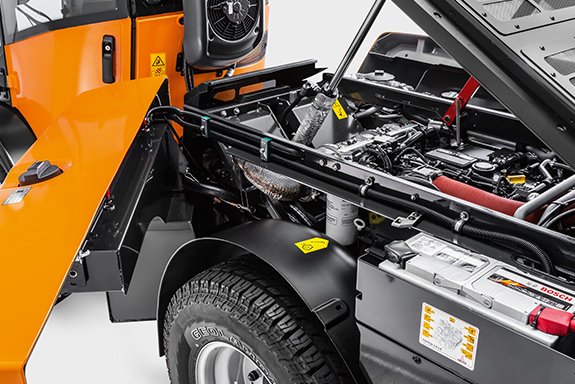 Easy service access
Thanks to easy access to all service components, the Holder S 75 is quickly ready for use: True to the motto "maintenance without waiting", the Holder S 75 is consistently designed for service-friendliness. The tilting cab, pivoting or folding side panels on the right and left, as well as conveniently positioned service covers provide free access to vehicle components requiring maintenance. Daily service work on the Holder S 75 is possible without dismantling the implements. This is ensured, among other things, by the hydraulically tiltable body compartment, which allows tipping even when the implement is semi-mounted. The battery is accessible from the outside, which makes it easy to start the machine from the outside in winter, for example. The optionally available central lubrication system saves even more time.
Holder S 75 technical data
| | |
| --- | --- |
| Power | 55 kW (75 HP) |
| Emission standard | Stage V / Tier 4 Final, |
| Speed | 0-40 km/h |
| PTO shaft | Mechanical front PTO shaft |
| Total permissible weight | 5,500 kg |
| Total outer width | 1,310 –1,580 mm |
| Cabin | 1 person cabin |
Download: Brochure S 75
Weitere interessante Informationen aus der Kärcher Municipal Welt