02. September 2019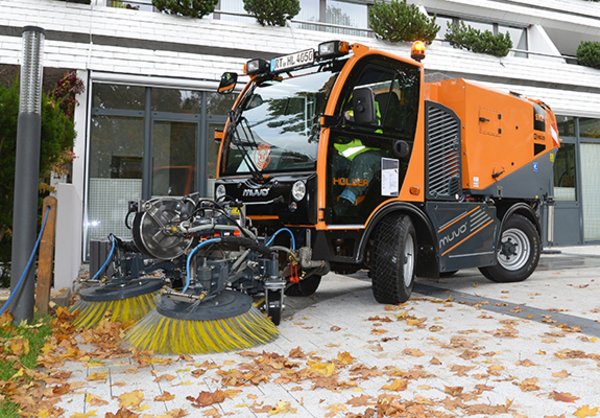 In the autumn season, countless leaves and thin branches fall from the trees. These can quickly accumulate and present an obstruction if they are not removed accordingly. In order to reduce the risk of slipping for pedestrians and cyclists and to keep streets free of debris, leaves must be regularly swept away during this time of year.
With its range of premium vehicles from 45 to 130 HP and a large selection of attachments, Holder offers a wide range of solutions for leaf clearing. The smaller models in the X and C series are particularly suitable for such sweeping applications. The free-sweeping brush can be used to clear aside leaves with ease. The sweeping brush can also be used in winter to clear away snow. Another option available for leaf clearing is leaf collection – either using a leaf suction nozzle that sucks up all material from the ground, or by means of a special leaf rake. For the latter, the material is collected via a purely mechanical process, with no suction required. This means that the uptake of sand, grit or pebbles is avoided, making it a particularly suitable option for lawns and water-bound paths.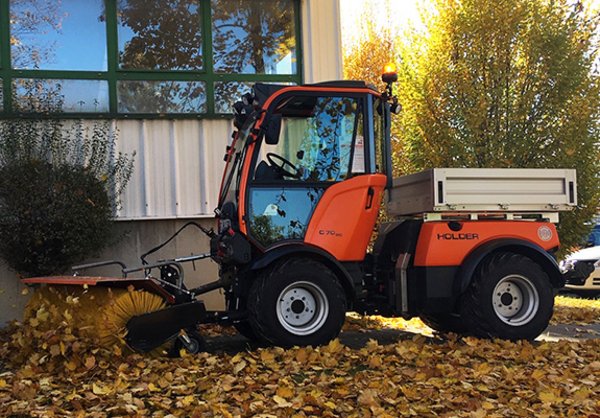 Using either solution, leaves, small branches and waste is collected, crushed and transferred to a container. This container is generally suited for leaves or mowed material and has an accordingly large collection capacity. On the Holder C series, this can be up to 1500 litres, or even up to 2200 litres on the Holder MUVO. If you wish to or have to forego the purchase of a special attachment for leaf clearing, however, you can work just as effectively with an existing mowing-suction or sweeper-suction combination. This will admittedly have a minor impact on the work result and incur some limitations during operation, yet these machines nonetheless do an outstanding job in clearing away manageable amounts of leaves.
Regardless of which solution our customers ultimately decide upon, thanks to the many years of close collaboration between Holder and an extremely wide range of attachment manufacturers, the vehicles and attachments are always perfectly coordinated to one another. This has resulted in complete systems that are technically flawless, efficient and long-lasting.
In addition to the versatility of the machines, Holder drivers particularly value the articulated steering. With this, it is possible on the one hand to swerve around obstacles in even the tightest of spaces, and on the other to ensure that an attachment such as a leaf collector can be easily and optimally aligned. Thanks to the three-dimensional adjustment, all environmental variables can be appropriately responded to. And thanks to the weight compensation, an even distance from the ground can be set, thereby preserving the terrain as well as the attachment.