Sweepers with added value
The sweeper-suction combinations KS 1200 (for the B and C series) and KS 1600 (for the S series) impress with their modern, award-winning design and intelligent functions. They combine the performance and reach of a single-purpose vehicle with the advantages of a multi-functional implement carrier. They produce minimal fine particulate emissions and received the best award in the PM10 and PM2.5 test as part of the EUnited certification.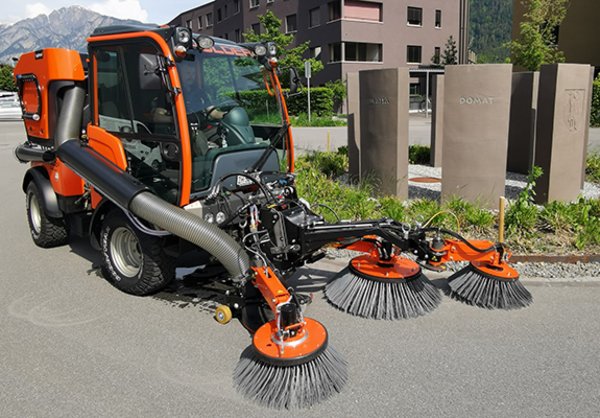 The suction hose running down the side of the vehicle can be used as fully integrated manual suction. The design also means that the suction hose can be checked and cleaned much more easily. The asymmetrical sweeping brush and the aerodynamically optimised suction mouth provide excellent cleaning results.
The hopper is made of high-performance stainless steel and has a gross volume of 1200 l (KS 1200) and 1500 l (KS 1600). Combined with the smart water recirculation system, whereby the water remains in the container if tipping occurs, it ensures a long reach. The sweeping width is 2000 mm on the standard version and can be extended by a third brush (optional weed brush).
The slim design and manoeuvrable articulated steering mean that a wide range of surfaces can be swept efficiently. As the vehicle is less than two metres high and has an exhaust opening on the rear section of the vehicle, it is also particularly ideal for cleaning multi-storey car parks and underground car parks.
The sweeping-suction combination has also been designed to be extremely quiet.

More on these carrier vehicles:
Holder B 55 SC | Holder C 55 SC | Holder C 65 SC / TC | Holder C 70 SC / TC | Holder S 75 / S 100 / 130
Equipment: sweeping-suction combination KS 1200 / KS 1600
Robust stainless steel container with usable container volume of 0.8 m³ (KS 1200) and 1,12 m³ (KS 1600)
Noise reduction thanks to a fan that is positioned at the bottom
Noise and fuel reduction since the maximum suction is reached at just 1750 rpm
No refuelling of the circulating water necessary, because a bottom valve in the container prevents the circulating water from draining when the hopper is tipped
Optimum dust binding thanks to the intelligent circulating water system: The circulating water in the dirt tank flows back into the dirty water tank and is moved into the suction hose for dust binding
Safe access to the suction hose for servicing and cleaning, as well as easy use of the suction hose as a hand-held suction hose with a diameter of 17.5 cm: The entire suction hose can be detached from the suction mouth during operation in just a few simple steps
Integrated leaf rake to quickly remove stuck-on leaves without having to open the container
Integrated high-pressure cleaner incl. 12 m hose, 17 l/min at 150 bar
Multifunctional: When combined with a mower, it can also be used as a mowing container
Flexibly adaptable sweeper with individual brush control and simultaneous control; for example, to sweep out parking spaces
Protection of the brushes and improved sweeping results thanks to the left- and right-hand independent hydraulic brush relief
Optimum dust binding thanks to the fresh water nozzles on the brushes
Quick key for sweeping on a second level
Excellent view of the swept material thanks to the integrated suction mouth camera
Collision protection for the brush arms and brush plates
Shortening of the suction hose and easy operation thanks to the suction mouth being on the right and the asymmetrical brushes
Easy operation thanks to the fixed setting of the larger left-hand brush and the flexible control of the right-hand brush when sweeping
Single-handed operation: All operating elements are clearly arranged on the joystick
Can be quickly and easily replaced with a mower in less than five minutes
Now with a third brush: every 2-brush system can be easily retrofitted at any time (optionally as a weed brush)
KS 1200
KS 1600
Hopper
Hopper, gross
1.2 m³
1.5 m³
Hopper, net
0.8 m³
1.12 m³
Fresh water tank
215 l
215 l
Recycled water
140 l
220 l
Total height incl. carrier vehicle
from 2000 mm
from 2200 mm

Total outer width incl. carrier vehicle

from 1130 mm

from 1360 mm

Brush system
Plate brush diameter
700 mm / 900 mm,
third brush: 700 mm
700 mm / 900 mm,
third brush: 700 mm

Sweeping width for suction mouth coverage

1450 mm – 2000 mm,
with a third brush: 1450 - 2500 mm

1450 mm – 2000 mm,
with a third brush: 1450 - 2500 mm

Carrier vehicles
Holder S 75 / S 100 / 130
Further information you might be interested in