More cost-effective and efficient green space maintenance and winter maintenance
The Apeldoorn municipality is switching to a DIY approach with multi-functional implement carriers
09. October 2017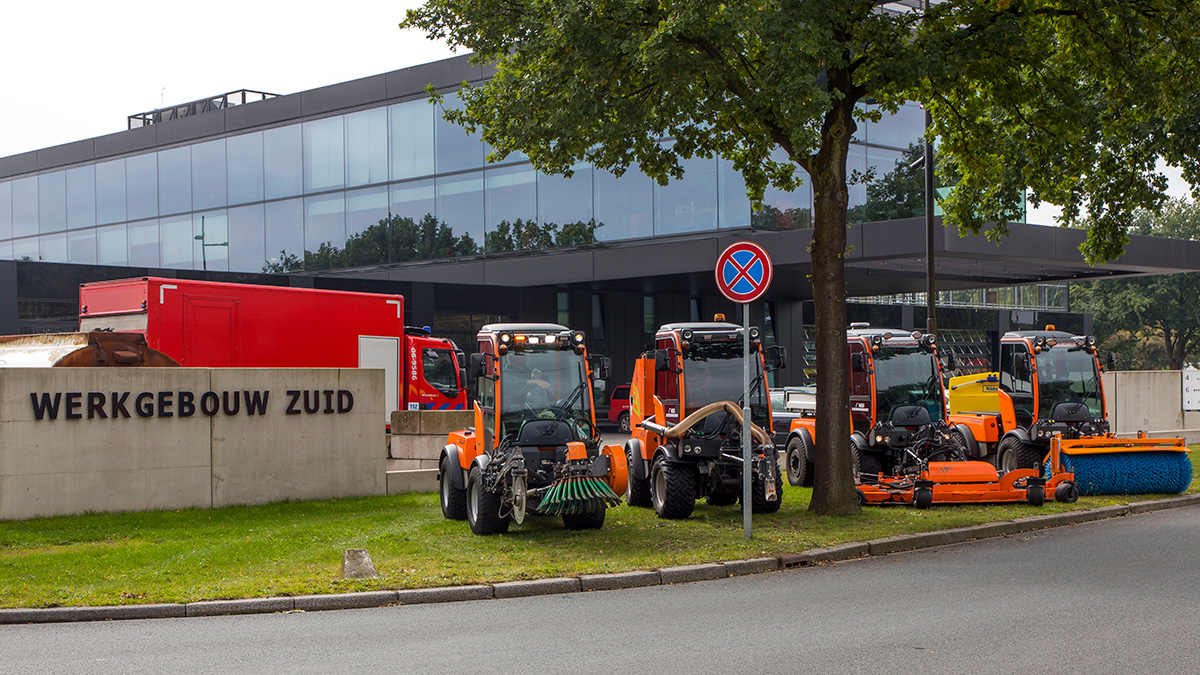 Apeldoorn, October 2017 – The Dutch municipality of Apeldoorn in the province of Gelderland is classed as a "green city". It has 160,000 inhabitants and an accordingly large number of communal green spaces that require maintenance. In order to reduce the costs required for maintaining these spaces, for winter maintenance and to tackle dog fouling, the municipality has made the switch: From outsourcing to doing it themselves. This called for multi-functional implement carriers, whose ability to operate throughout the year, in contrast to special machines, guarantees a good level of utilisation. They also allow a large number of tasks to be completed using just a few vehicles. After a Europe-wide call for tenders, they opted for four C 250 implement carriers from Holder, which have now successfully been in use for two years.
The B standard must be maintained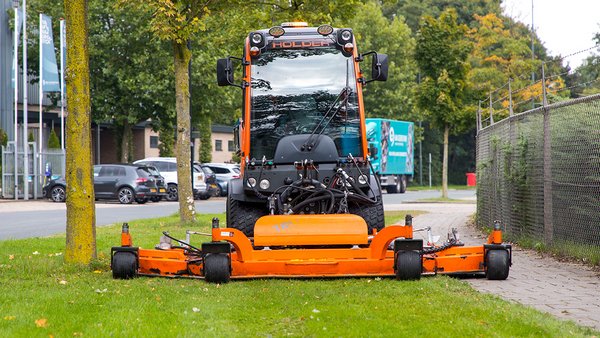 In the Netherlands, the standard for maintaining public roads and green spaces is divided into four categories in accordance with image references: From A, which is the highest standard, to D, which involves simple maintenance with minimal requirements. Each municipality has to decide for themselves: Is a high-quality urban landscape required or is less maintenance of the green spaces justifiable? Around 10 years ago, the Apeldoorn council decided to use an image quality in accordance with standard B. "The policy determines what we do," stated Wilbrand Oonk, Technical Support Unit Leader for the municipality of Apeldoorn. "There is a significant difference between standards A and B with regard to the financial expenditure required. What we can achieve depends heavily on how much money we can expect to be able to spend." This is not the easiest starting point; by selecting standard B, the municipality has selected an ambitious standard, yet they also have to ensure that they keep their costs as low as possible. They have therefore considerably scaled back on commissioning external contractors and instead, the municipality itself is taking on the maintenance of green spaces, winter maintenance and removing dog excrement.
Go multi-functional to reduce costs
However, the idea of the municipality taking on more tasks itself is not a general trend in the Netherlands. "In Apeldoorn, we simply have a special set of conditions. We have 400 employees as well as a large building. In a situation like that, you can do the job better yourself, with your own machines," says Wilbrand Oonk. Therefore, Apeldoorn's fleet of machines is impressive, valued at €10 million and including 150 cars and buses, two trucks, four tractors, three small tractors and numerous lawnmowers. Every investment in recent years was made from the point of view of multi-functionality. Using a separate special machine for each application was inflexible in the long term and, above all, simply too expensive. "When it came to the new vehicles, the multi-functional aspects were especially important to us, because this equated to significantly reduced costs," says Oonk. A single vehicle is now expected to be able to carry out an extremely wide range of functions throughout the year, without compromising on the quality, speed or efficiency of special equipment.
"With calls to tender, the description of the details is crucial. We described all of the requirements and required applications in as much detail as possible."

Wilbrand Oonk
Following surveys among drivers and mechanics, a requirements specification was created and publicly advertised across Europe. The new multi-functional implement carriers would have to be reliable and versatile, compact and strong, yet flexible when it comes to mounted implements and attachments. Furthermore, they should be designed to be worked on all day, i.e. offer the drivers safety and a comfortable cab; with air conditioning or ergonomic seats, for example. In addition to mowing and mulching, it should also be possible to carry out special applications, such as cutting lawn edges and vacuuming dog excrement. It must be possible to carry out winter maintenance with sweeping and spreading salt and to use the latest in add-on technology at the same time (spreader with GPS function, automatic route guidance and setting of spreading parameters, documentation of winter maintenance work that has already been carried out). "With calls to tender, the description of the details is crucial. We described all of the requirements and required applications in as much detail as possible," says Oonk. However, there are only a few manufacturers in the world which offer machines that can meet these requirements for municipalities, service providers or contractors. "Two providers applied, and Holder was the one we picked."
A system that is specially tailored for use by municipalities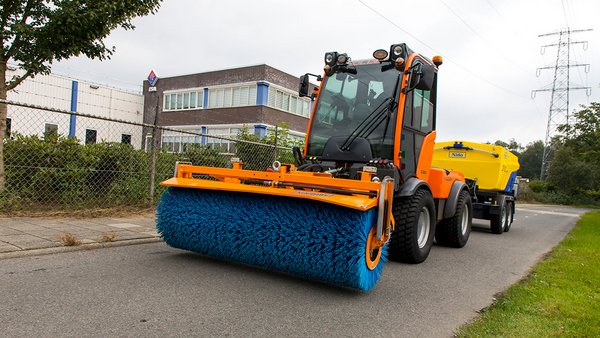 In the end, the municipality of Apeldoorn was not only impressed by the suitable technology, but also by the overall harmonious system that was specially tailored to meet the needs of municipalities, including advice, reliable servicing, repair services and the availability of spare parts from Holder. For Apeldoorn, the regional specialist dealer Bruntink and the importer Mechan Cultuurtechniek have always been competent and reliable contact partners. During the development of individual applications specially tailored to Apeldoorn, the collaboration was also incredibly constructive. Inspired by the drivers from Apeldoorn, darker windows were fitted in the implement carriers, for example. "This helps to reduce the fuel that is required for the air conditioning system in the summer," explains Wilbrand Oonk. "Using the air conditioning system less means using less fuel – according to our calculations, this tinting saves 7 to 8 litres of fuel per day." You just have to make sure that you are in compliance with the legal provisions because eye contact between the drivers and other road users must always be possible.
The device for removing dog excrement, which is also fitted on the Holder implement carriers, has even been constructed by the municipality itself. "The dog owners pay a dog licence fee, which we spend to clean up what the dogs leave behind. Twice a week," says Oonk. A suction device is used to deposit the dog excrement in the container. The device now runs for several thousand hours per year.
Sickle mower instead of a cylinder mower
In Apeldoorn, there are many sports fields, parks and green spaces to mow. The urban landscape defined under the B standard specifies the requirements for municipal technology. While cylinder mowers were used in the past to achieve the highest-quality results, the lawns are now maintained using sickle mowers that are fitted onto Holder's implement carriers. It was therefore possible to reduce the mowing frequency a little. As is customary in the Netherlands, the cuttings are left to mulch. With mulching, the mowed material is not transported away but is instead left as a layer on top of the grass which, in turn, saves many hours that would have been spent removing it. The edges of the lawns are cut using an application that has been specially constructed for Apeldoorn and specially designed for the Holder implement carrier; the weeds are brushed and blown away. For autumnal conditions, the Holder implement carrier has a leaf blower which is used for many hours each day.
Fast response in winter
Between October and April, one vehicle must always be on standby for immediate use for winter maintenance. Since Apeldoorn switched to multi-functional vehicles, they can now respond quickly to new demands. The mower deck has been replaced with a brush and a snow plough and roller brush have been acquired. The spreading salt is now transported using a special 800 litre trailer; the payload is therefore bigger and the potential operating time has doubled. Overall, the winter maintenance has been automated as far as possible and is controlled using computer systems and GPS. The computer in the implement carrier uses a navigation system to guide the driver on their route while the spreading width and volume are adjusted automatically. This means that the spreading width is, for example, automatically increased for bus stops. The route that is taken is automatically documented.
The future of municipal technology?
"In Apeldoorn, you are always a few years ahead of developments," Wilbrand Oonk summarises the current situation in his municipality with a hint of pride. The switch to multi-functional, flexible vehicles was a success: All the work can be completed as desired, the drivers feel good in their new machines, and it was possible to reduce costs. There is the feeling that the municipality is well-equipped to face the future, particularly considering the flexibility to add additional services if they are needed. This means that, with additional attachments, verge mowing, chemical-free weeding or street cleaning could all be taken on by the municipality itself one day. "Every time we make a technology purchase, environmental protection is a key issue for us," adds Oonk. Numerous electrical vehicles are already in use and have been well-received by the employees thanks to their quiet operation. Only tractors cannot – currently – work with electric engines. "I believe that we will go in the direction of hybrid in the future," expects Oonk. If these vehicles become less costly, the municipality of Apeldoorn will definitely want to use them.
"I believe that we will go in the direction of hybrid in the future"

Wilbrand Oonk